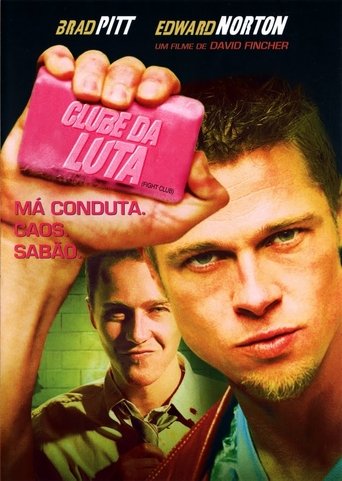 Clube da Luta
1999
139 min
Drama
Jack (Edward Norton) é um executivo jovem, trabalha como investigador de seguros, mora confortavelmente, mas ele está ficando cada vez mais insatisfeito com sua vida medíocre. Para piorar ele está enfrentando uma terrível crise de insônia, até que encontra uma cura inusitada para o sua falta de sono ao frequentar grupos de auto-ajuda. Nesses encontros ele passa a conviver com pessoas problemáticas como a viciada Marla Singer (Helena Bonham Carter) e a conhecer estranhos como Tyler Durden (Brad Pitt). Misterioso e cheio de ideias, Tyler apresenta para Jack um grupo secreto que se encontra para extravasar suas angústias e tensões através de violentos combates corporais.
Trailer
Título OriginalFight Club
DireçãoDavid Fincher
GêneroDrama
Ano1999
Duração139 minutos
ÁudioDublado
QualidadeHD
Classificação18 anos
Edward Norton
The Narrator
Brad Pitt
Tyler Durden
Helena Bonham Carter
Marla Singer
Meat Loaf
Robert "Bob" Paulson
Jared Leto
Angel Face
Zach Grenier
Richard Chesler
Holt McCallany
The Mechanic
Eion Bailey
Ricky
Richmond Arquette
Intern
David Andrews
Thomas
Christina Cabot
Group Leader
Tim DeZarn
Inspector Bird
Ezra Buzzington
Inspector Dent
Bob Stephenson
Airport Security Officer
David Lee Smith
Walter
Carl Ciarfalio
Lou---s Body Guard
Stuart Blumberg
Car Salesman
Mark Fite
Second Man at Auto Shop
Matt Winston
Seminary Student
Lauren Sánchez
Channel 4 Reporter
Thom Gossom Jr.
Detective Stern
Markus Redmond
Detective Kevin
Van Quattro
Detective Andrew
Michael Girardin
Detective Walker
David Jean Thomas
Policeman
Paul Carafotes
Salvator - Winking Bartender
Christopher John Fields
Proprietor of Dry Cleaners
Michael Shamus Wiles
Bartender in Halo
George Maguire
Group Leader
Eugenie Bondurant
Weeping Woman
Sydney "Big Dawg" Colston
Speaker
Rachel Singer
Chloe
Christie Cronenweth
Airline Attendant
Dierdre Downing-Jackson
Businesswoman on Plane
Charlie Dell
Doorman
Rob Lanza
Man in Suit
Joel Bissonnette
Food Court Maître D---
Evan Mirand
Steph
Robby Robinson
Next Month---s Opponent
Lou Beatty Jr.
Cop at Marla---s Building
Valerie Bickford
Susan - Comsetics Buyer
Peter Iacangelo
Lou
Todd Peirce
First Man at Auto Shop
Joon Kim
Raymond K. Hessel
Bennie Moore
Bus Driver with Broken Nose
Pat McNamara
Commissioner Jacobs
Tyrone R. Livingston
Banquet Speaker
Owen Masterson
Airport Valet
Anderson Bourell
Bruised Bar Patron #1
Scotch Ellis Loring
Bruised Bar Patron #2
Andi Carnick
Hotel Desk Clerk
Edward Kowalczyk
Waiter at Clifton---s
Leonard Termo
Desk Sergeant
Michael Arturo
BMW Salesman (uncredited)
Greg Bronson
Fight Spectator (uncredited)
Matt Cinquanta
Fighter (uncredited)
Tommy Dallace
Champion Fighter (uncredited)
Paul Dillon
Irvin (uncredited)
Tom Falzone
Vomiting Fight Spectator (uncredited)
Eddie Hargitay
Chanting Fighter (uncredited)
Phil Hawn
Banquet Guest (uncredited)
Bruce Holman
Waiter in Bridgeworth Suites Corporate Video (uncredited)
Jawara
Fight Patron Saying ---I don---t know. What---s going on?--- (uncredited)
Baron Jay
Waiter (uncredited)
Jim Jenkins
Restaurant Maitre D--- (uncredited)
Kevin Scott Mack
Passenger Clutching Armrest (uncredited)
Trey Ore
Fight Club Patron / Guy #2 in Video Store (uncredited)
Louis Ortiz
Fight Spectator (uncredited)
Hugh Peddy
Fight Club Man (uncredited)
J.T. Pontino
Fight Club Man (uncredited)
Chad Randau
Waiter (uncredited)
Marcio Rosario
Fighter (uncredited)
Gregory Silva
Riley Wilde - Fighter (uncredited)
Brian Tochi
Fight Bully (uncredited)
Alekxia Valdez
Bar Worker (uncredited)
Michael Zagst
Support Group Member (uncredited)
Gökhan Öncel
Man at the Club (uncredited)
Philip Centanni
Space Monkey (uncredited)
Marc Cinquanta
Space Monkey (uncredited)
Summer Moore
Marla---s Neighbor (uncredited)