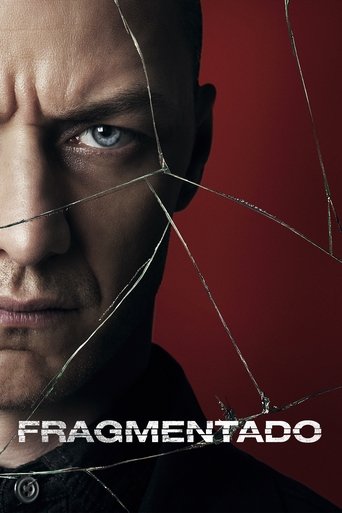 Fragmentado
2017
117 min
Terror
Suspense
Kevin (James McAvoy) possui 23 personalidades distintas e consegue alterná-las quimicamente em seu organismo apenas com a força do pensamento. Um dia, ele sequestra três adolescentes que encontra em um estacionamento. Vivendo em cativeiro, elas passam a conhecer as diferentes facetas de Kevin e precisam encontrar algum meio de escapar.
Trailer
James McAvoy
Kevin Wendell Crumb / Dennis / Patricia / Hedwig / The Beast / Barry / Orwell / Jade
Anya Taylor-Joy
Casey Cooke
Betty Buckley
Dr. Karen Fletcher
Haley Lu Richardson
Claire Benoit
Jessica Sula
Marcia
Brad William Henke
Uncle John
Sebastian Arcelus
Casey---s Father
Neal Huff
Mr. Benoit
Kim Director
Hannah
Lyne Renee
Academic Moderator
M. Night Shyamalan
Jai
Peter Patrikios
Hooters Lover
Roy James Wilson
Taxi Driver
Robert Bizik
Homeland Security Officer
Izzie Coffey
Bar Patron
Rosemary Howard
Five-Year-Old Casey
Jon Douglas Rainey
Kevin---s Mother
Junnie Lopez
Dr. Clerque
Steven Dennis
Geraldo
Matthew Nadu
Dan at Next Table
Barbara Edwards
Waiter
Kash Goins
Diner Patron
James Robinson Jr.
Flower Kiosk Worker
Corinne Costa
Claire---s Party Guest
John Mitchell
Party Guest
Andrea Havens
EMT
Shawn Gonzalez
Traveler in the Station
Kelly Werkheiser
Train Conductor
Aleksandra Svetlichnaya
Casey---s Mother
Jalina Mercado
Pedestrian
Michael J. Kraycik
Zoo Goer
Michelle Santiago
Zoo Worker
Michaela Bockarie
Zoo Worker
Colin Campbell
Zoo Attendee
Nakia Dillard
Boy in Park
John Jillard Sr.
Police Officer #2
Julie Potter
Homeland Security
Ukee Washington
Paramedic
Christopher Lee Philips
News Anchor
Bruce Willis
Older Worker
Vincent Riviezzo
David Dunn (uncredited)
Gary Ayash
Detective (uncredited)
Jeff Buckner
Restaurant Patron (uncredited)